When it comes to beach wedding cakes, there are no limits. The following lovely and delectable foods had us certain that guests would be diving into them immediately. Pick and choose elements from any of these wedding cake designs to create your own version for your audience.
Marbled Tiers
Marbled tiers are a contemporary style that might evoke the beach. What's the secret? The same colour palette used on this Feathers & Frosting creation is ideal. Take note of how the colours blended together to create a wave-like pattern on the bottom and top sections of the dessert.
White and Blue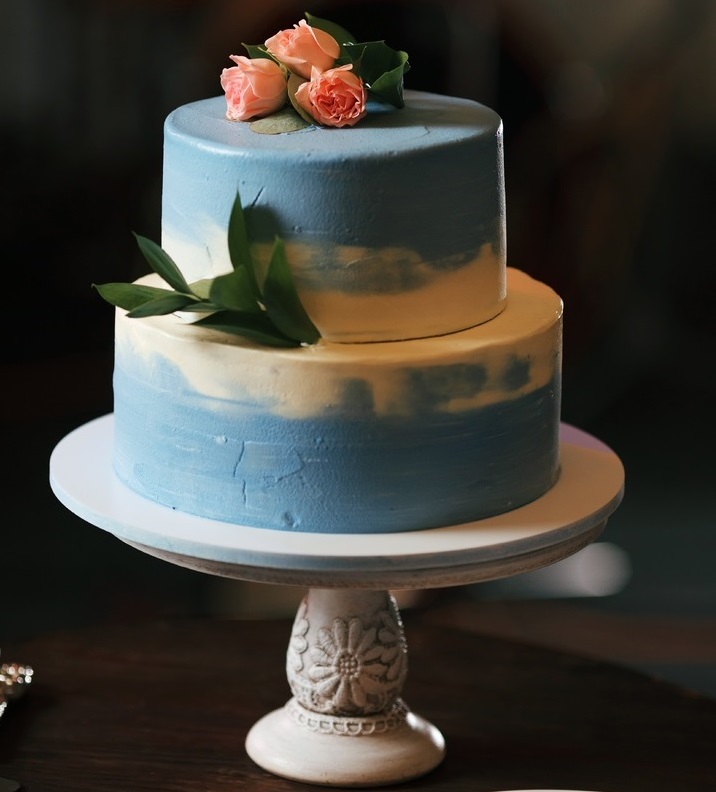 Sometimes, all you need is an oceanic colour scheme to create the ideal seaside look. All it took was a blue-and-white-hued bottom layer for this two-tier Jenny Wenny Cakes dessert to feel completely beachy.
Tropical
Of course, a tropical wedding and a beach venue are a match made in heaven. So why not use motifs from both into your dessert? Make them like Whipped Confections by putting an exotic leaf design on one tier and a graham cracker crust on the bottom section to represent sand. A small floral arrangement (this one is from Habitat Events) completes the seaside look.
Dried Plant
There are so many natural seaside components to use in your cake. However, if you're throwing a modern party with subtle accents like the thin dune-like sticks on this Graceful Baker cake, it's a good idea. The all-white cubed tiers only enhanced the treat's trendy atmosphere.
Crystals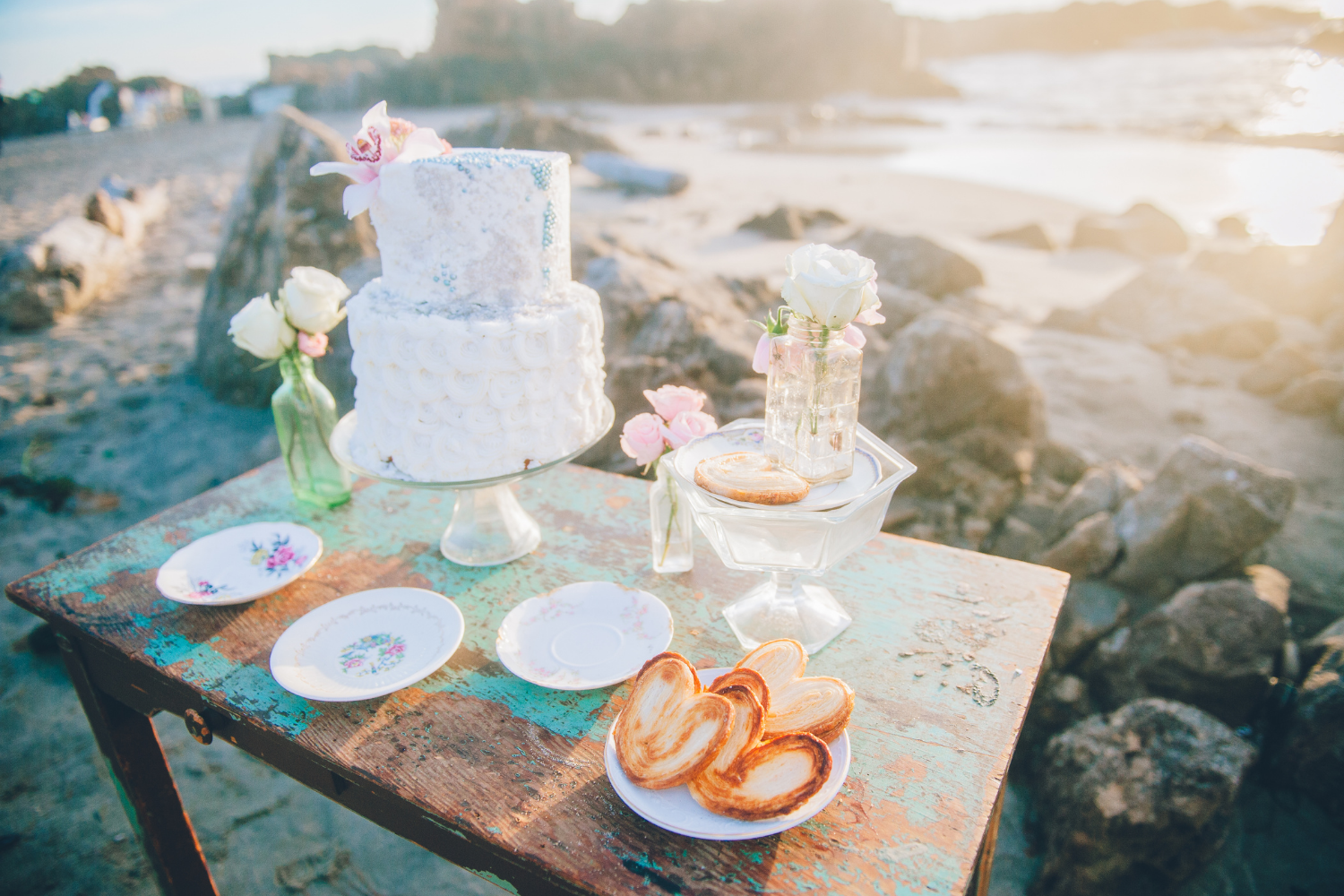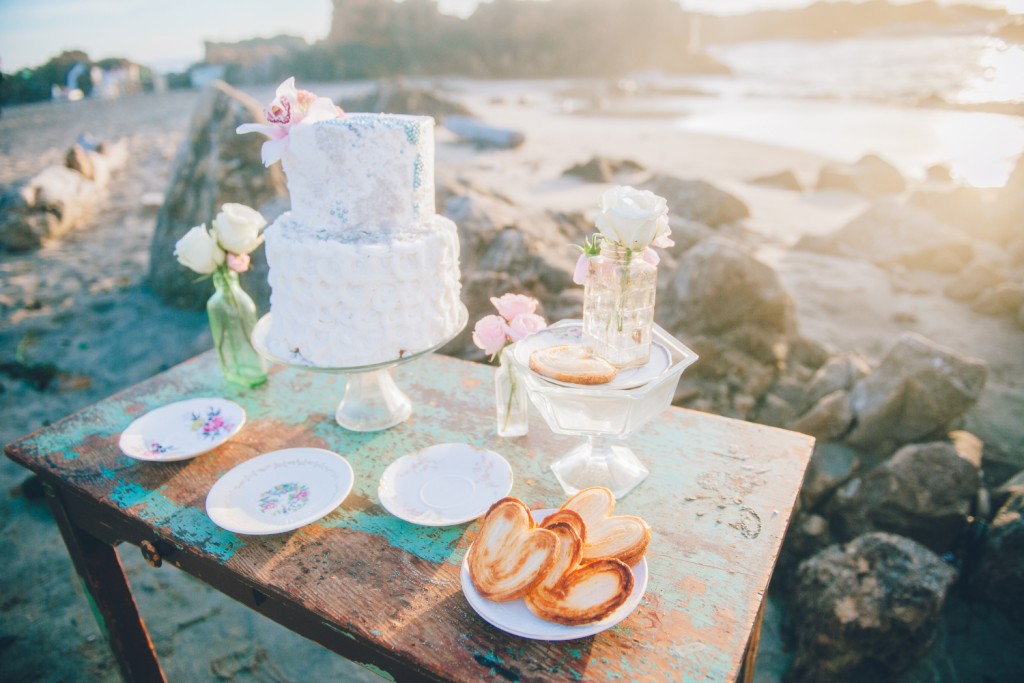 You may also use blue fondant and icing to create a beach-themed dessert. A grey colour scheme will also work well. This cake from Vanilla Bake Shop had sugar crystals (which resembled sea glass) throughout it, as well as a wave design on the bottom tier that drove home the point.
Watercolour
Watercolour may be the most appropriate decor for your ocean-themed cake, so we thought you'd want to know about it. So, have your baker (in this case, Elise Cakes) sponge edible grey-and-blue paint onto your confection to match your seaside colour scheme. To complete the appearance, add a flower with seaweed.
Brushstrokes
Looking for a way to give your cake the appearance of natural wave undulation (and colour gradient!)? Katie Grant used a brushstroke technique to apply this confection's blue-and-white frosting. To complete your seaside-themed dessert, add a coral top grounded by graham cracker "sand."
Pearls and Seashells
To make a big difference, you don't need a cake the size of the ocean. For an exceptionally beach-inspired treat, look no further than this tiny confection from Cake Opera Co., which utilized only sugar pearls and authentic shells.
Mussel Garland
We're used to floral garlands decorating cakes on the sides, but if you're having a seaside party, we suggest going outside of the box. Paper Cake Events placed a "vine" of mussel shells down the side of this cake and topped it off with a dark blue-and-black bottom layer to finish it off.
Beachy And Elegant
Although the beach is often associated with a carefree, unpretentious atmosphere, your ocean-inspired masterpiece may still seem very elegant. This Lenovelle Cake nine-tier cake looked both opulent and seaside at the same time. The experts utilized layers of ombré fondant to replicate waves at the bottom of the cake, while shells adorned the top six tiers.