Square tiers instead of round ones are an easy way to keep your wedding cake fresh. There's something new and sophisticated about a contemporary, perfected confection with clean, sharp lines and precise 90-degree angles. Modern cakes with square layers are particularly appealing, so if you're having a modern affair, a modern cake would be ideal.
To add a more feminine and romantic flavour to the angular confection, top it with cascading flowers or watercolour-style paint in pastel colours. Consider an all-white cake with a solitary floret topper or a few berries for a more basic look. Choose a cake influenced by Art Deco design, add acrylic stackers for added glitz and glamour, or go edgy and urban with black cakes and concrete-style stands.
Take a look at some of our favourite square-shaped sweets, from geometric patterns to sleek ruffles.
Modern Mondrian Confection
This gum-paste gold-and-grey confection has modern marbled layers and cherry blossom branches. The multiple heights of the square-shaped tiers provide visual interest, while the complex, gold piped lines give the entire design a subtle Mondrian vibe.
A Ruffled Wedding Cake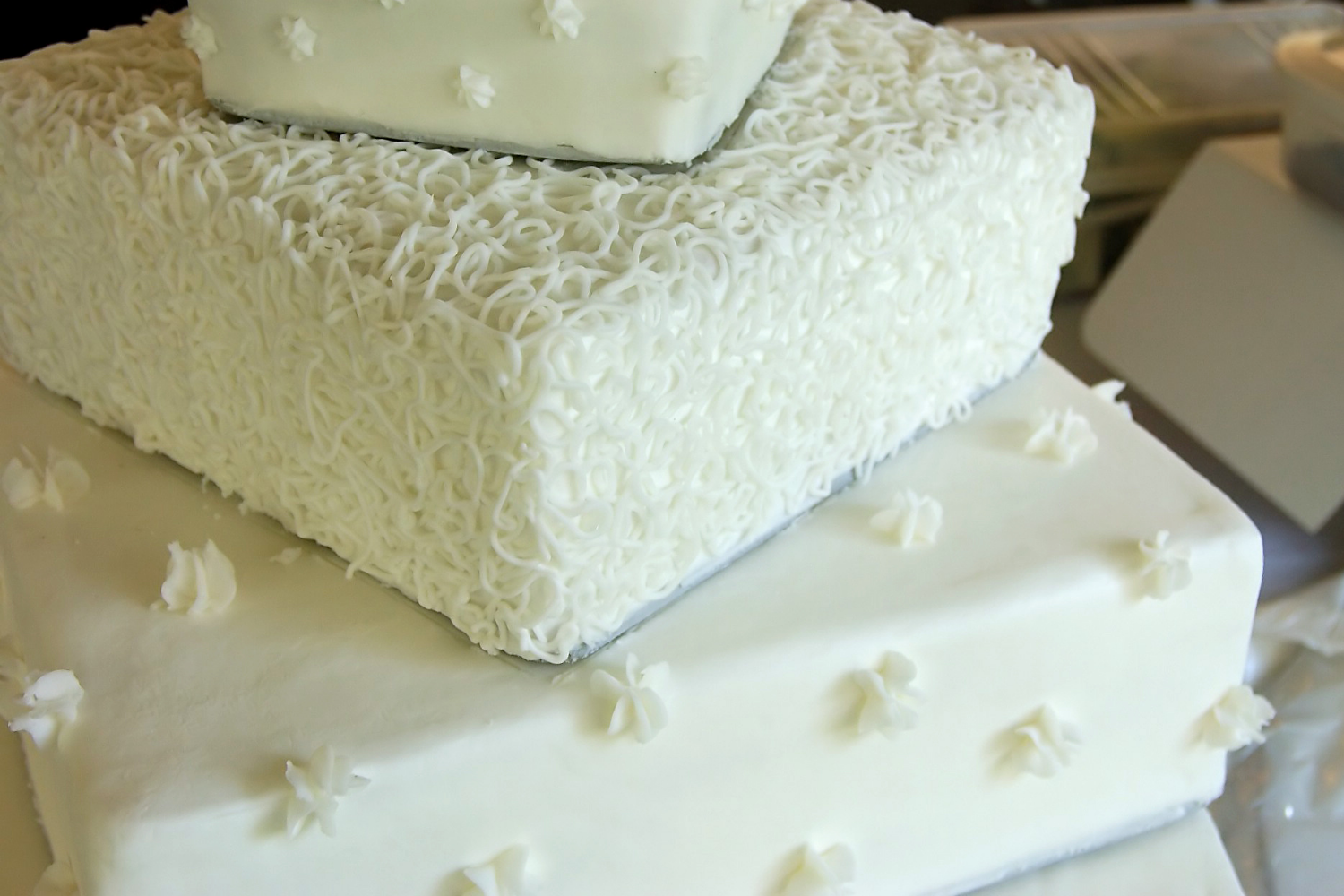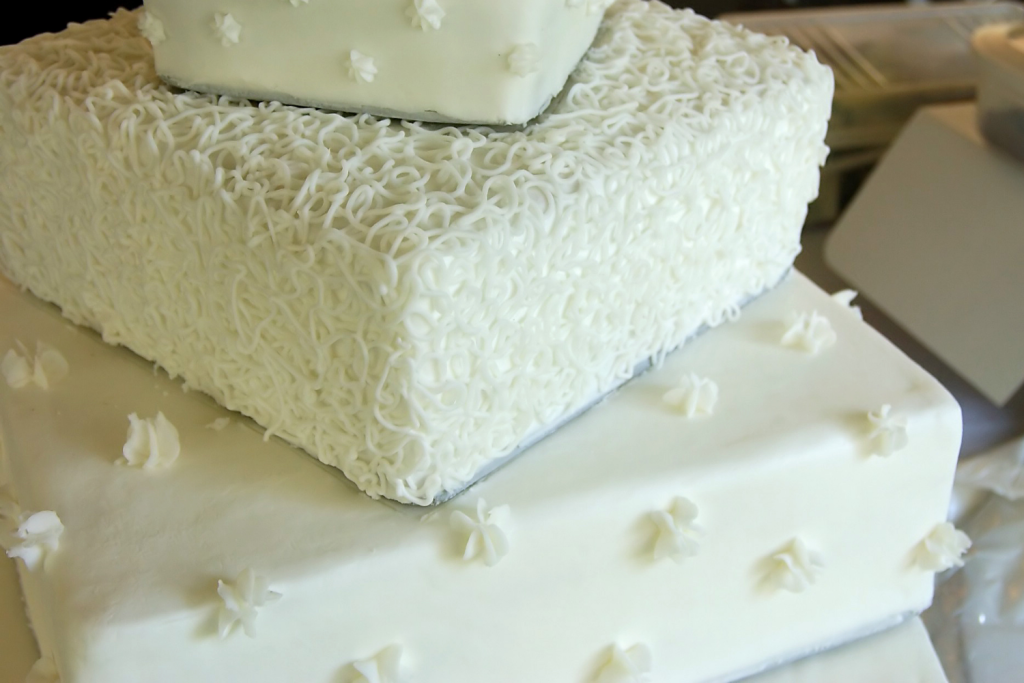 Ruffled wedding cakes are a simple way to add a lighthearted touch to a classic all-white cake. This basic yet stylish design was inspired by the bride's dress, which had a one-shouldered bodice with gentle ruffles that fluttered as she moved.
Pressed-Fondant Base
Tiered, square edges are a simple way to add drama to an all-white cake. A delicate lace pattern is pressed into the fondant on the bottom tier of this crisp white cake. This beautiful wedding cake, adorned with a bouquet of fresh flowers, demonstrates that even the tiniest features may make for a stunning wedding cake.
Geometric Wedding Cake
This all-white wedding cake is anything but basic. The triangle-shaped fondant panels on the tiers, as well as the trio of sculptural sugar cattleya orchids, keep things contemporary and interesting. Doesn't this cake look like an origami masterpiece?
Topped With Fruit
Instead of fresh or sugar flowers, why not add some fruit to your modern, square-tiered cake? Choose in-season fruits so that your wedding dessert can be a tribute to the seasons. It also adds bright colours to an all-white backdrop.
Asymmetrical Floating Backdrop
Wet wispy grasses are sometimes sufficient for all of the cake decorations you need. This design is light and airy and is ideal for a summer wedding. We can picture modern bohemian brides loving this cake.
A Mosaic-Tile Cake
The bottom two tiers of this Mediterranean-inspired cake are hand-painted to appear like bright blue-and-yellow tiles. It's a fun and whimsical design that works well for a more lighthearted wedding.
Faux Bois Wedding Cake
This sculptural confection is made of chocolate panels with a wood-graining tool that creates the wood texture. A pair of taupe-coloured sugar flowers decorate this contemporary design.
Great Gatsby Glam Cake
This brilliant Art Deco-inspired cake is reminiscent of F. Scott Fitzgerald's masterpiece, The Great Gatsby. This three-tiered cake, with gold and emerald green accents, looks like stained glass and feels more luxurious—perfect for any Roaring Twenties party.
Art Deco Confection
This tiered cake, which is Art Deco-inspired, has glittered accents and geometric forms for a contemporary spin on the classic. The play of visuals—the changing directions of the rectangular lines—is fantastic; it adds complexity and depth to an already fascinating sweet treat.